Visiting our kennel
Please notify us by email or call us to make an appointment before visiting our kennel even on the same day.
We can only assist one group at a time and trying to avoid customers coming at the same time.
Thank you very much for your understanding and cooperation!
Open Hours:9:00~12:00 / 13:00 ~ 17:00
(can be flexible upon your request)
---
Management Policy
We obey the "Act on Welfare and Management of Animals" and create an environment of our kennel above and beyond the guidelines. Recently the act has been revised and related regulations became more strict with actual numbers. However, we have been keeping only small number of breeding adults to provide intense care and attention for their physical and mental health.
If you wish to know in details about the Act, please visit "Ministry of the Environment" website linked at the bottom of the page.
---
Service & Assistance
We have a lot of experience supporting international customers adopting a puppy from us. It is important to clarify where responsibilities lies therefore we do not use any third parties or agents in the business until handing a puppy over to the airline company.
We can;
prepare all necessary documents/certificates in English
take a puppy to have all required veterinary treatments
transport a puppy to the departure airport
take a puppy to have pre-departure quarantine inspection and customs clearance
hand over a puppy to the airline company at a designated area in the airport
or travel to the destination country with a puppy and hand over to you directly as per your request
Please check the requirements and regulations of your country about importing a puppy. There are exceptions or special conditions in some countries.
Echigo Myoko Sanso is registered as a member of the Kennel Club of Japan. All our breeding adults have passed examinations and certified as a breed "Mameshiba". Therefore the puppies will have a pedigree certificate issed by the association with information of previous generations. Please note that Mameshiba does not give a big litter which may take a while for us to have available puppies. For your reference, please check the link at the bottom of the page about standard of a breed "Mameshiba".
We may not be a kennel offering least expensive service, but could be a kennel offering the best assistance!
Please contact us for details and a quote.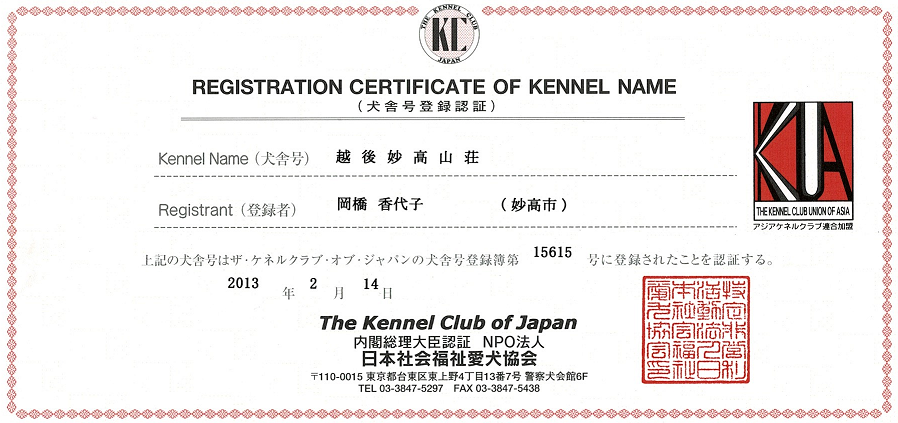 ---
Director and Responsible Person
Director and the responsible person of the kennel is a certified vetarinarian in Europe. However the government does not recognize the degree and permit to perform any medical practice in Japan due to differences in the education system. It is still possible to take care and manage the health condition of our breeding adults and new born puppies.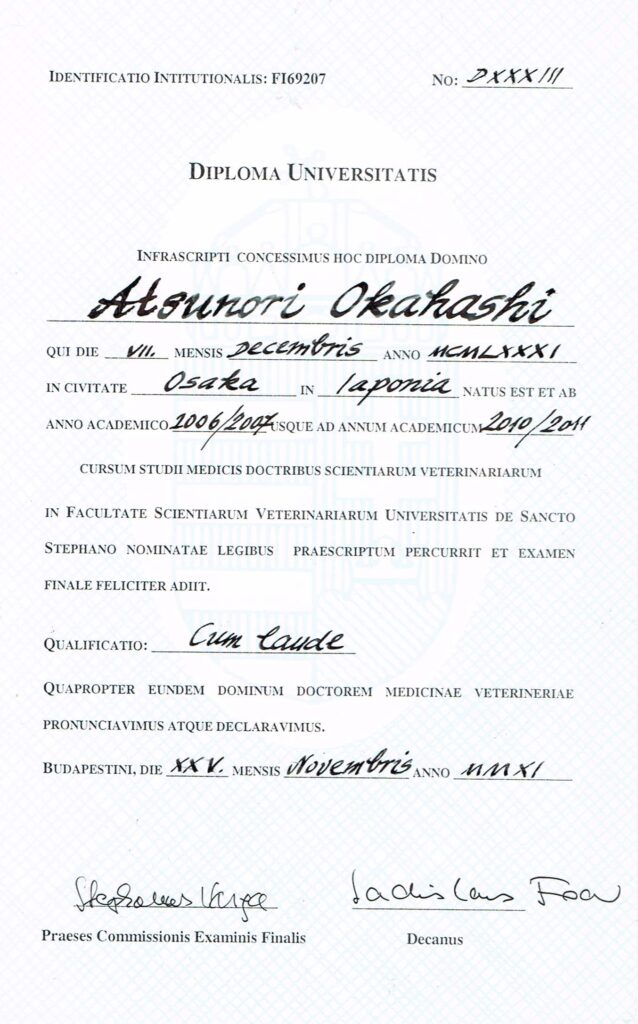 ---